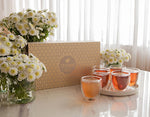 In today's fast-paced and competitive world, building connections on a deeper level is the only way to stand out and leave your mark! What is better than corporate gifting that is memorable and impactful? Gone are the days of common gifts such as boxes of dry fruits or sweets. Gifting corporate gift boxes, herbal tea gift sets, or teaware in a beautiful curated box are one-of-its kind gifts. Thoughtful gestures like these and a little token of appreciation are key attributes to building strong business relationships and creating lasting impressions on your clients and employees.
Octavius can help you find the best corporate tea gifts that are personalized and align with your company's values. Whether it is Diwali gifts for employees or corporate gifts for clients, we will help you find the finest ones that are gift wrapped with personalized cards.
Why Choose Tea and Coffee Gift Sets for Corporate Gifting?
Over a cup of tea and coffee, relationships are made, whether in personal or business endeavors. At Octavius, we believe tea and coffee are a legacy and are the finest options for corporate gifting.
With gupshup, chatting, or talking in the meeting alongside a cup of tea, it also promotes relaxation. The 'ek cup chai ho jaye' (let's have a cup of tea) provides the much needed break for mind and body while working from home or in the 9 to 5 job. These vital moments are the gateway to fueling creativity, boosting focus and enhancing productivity. All of these are required for personal and professional success.
Octavius: A Trusted Brand for Tea and Coffee Gift Sets
Octavius's tea cultivating tradition dates back to 1898 and has mastered the art of blending tea leaves, herbs and roasting beans. Our tea box gift sets tell the tales of our journey and carry the essence of centuries-old expertise.
Get ready to make an impact with our corporate gifts. Your recipients will appreciate it long after the season is through.
Glass teapot
Let's begin with steeping leaf teas in this elegant, handcrafted borosilicate clear glass teapot. This isn't a fat and stout teapot; rather, it is a beautiful tapered square. It has a detachable gold plated infuser and lid to give you a hassle-free experience steeping the loose leaves to the desired strength. No need for the traditional sieve; just remove the infuser and pour your favorite tea into a cup.
Assortment of Fine Teas
Chai lovers and green tea addicts will swoon over this tea box assortment. It has expertly curated fresh black tea and green tea bags. And it gets even better! There are instant tea premix sachets of homemade Indian chai. So wherever you go, you won't lack the love of the home-like tea. This premium corporate gift comes packed in a handcrafted Sheesham wooden box. You can select a box according to the number of teabags, ranging from 60 to 120 and also add a personalized card.
Wellness Tea
At Octavius, we not only offer tea with a refreshing aroma but also a cup of wellness. This wellness range is a true teatime treasure filled with antioxidant-rich healthy teas with floral, herbal, and spicy notes. It comes in glass vials and is the perfect Diwali gift for employees who are caffeine-free lovers. It consists of chamomile tea, mint tea, tulsi tea, and moringa tea, each with its own health benefits. Rest assured that your recipient will fall in love with this gift that provides good sleep, strong immunity, and glowing skin.
Premium Black Tea
Can we first take a moment to appreciate the beauty of the wooden box for this corporate gift? This corporate tea hamper resonates 'killing two birds with one stone'– It looks extravagant and is exclusive to black tea lovers. We can't even rave enough about the champagne ofteas;, yes, we are talking about the whole leaf Darjeeling tea. Along with this comes the all-time favorite globally, Assam tea, which releases a rich aroma after brewing. Even after the tea is consumed, the beautiful wooden box can be used as a keepsake or jewelry storage.
Spice Box
An Indian kitchen is incomplete without a spice box and it is time to enhance a kitchen cabinet with this box full of aromatic joy. It contains the finest hand-picked spices from South India. The six essential spices are cinnamon, clove, star anise, black pepper, green and black cardamom. Along with serving as the core of most Indian dishes, these spices can also be added to tea, uplifting its health benefits. They can be ground to create garam masala or used as a whole in aromatic rice dishes like pulav and biryani.
Desi Print Box
If your brand resonates with funky, quirky and desi designs, then this is the best corporate tea gift. The funky design print on the box will convey your brand's voice to your clients or employees. It is packed in a tile motif wooden box and contains three green and three black tea variants with abundant antioxidants in each. Isn't it perfect for health conscious recipients? The teas, when brewed, will have a rich and robust fragrance made with a harmonious blend of each ingredient.
Conclusion
Our corporate gifting ideas are like an unspoken message you would convey to your recipients. A well-thought corporate gift set like tea hampers can elevate positive feelings and give much more than just a smile.
Octavius offers a blend of quality, caters to diverse tastes and is versatile. Visit our website and discover the perfect corporate gift boxes.
Shop now!
---
← Older Post Newer Post →