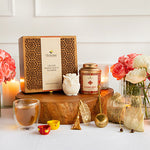 The festival of Diwali is celebrated to signify the victory of good over evil. We can see the lighting of diyas and lamps in different houses during Diwali. It is also marked as the day Lord Rama returned to Ayodhya after spending 14 years in exile and defeating Ravana.
Diwali is one of the important festivals in India. People loved gifting new items on the auspicious occasion of Diwali. The idea of exchanging gifts during Diwali is to strengthen the feeling of togetherness, love, and affection. It does not matter about the size of the gift; what matters is the pure bliss experienced when giving the best gift. To make this Diwali more healthy and blissful, you can try gifting the best tea gift hampers from Octavius. It has brought some of the best collections of tea gift hampers this festive season.
Octavius Tea: A Trusted Choice for Diwali Gifting
Octavius has a rich heritage in exemplifying the heritage of the best tea drinking. Its tea has the best and finest teas with incredible flavor and a pinch of Indian finesse. It was set up in 1898 by a Scottish person named Walter Duncan to bring the best and finest teas from the tea plantations of Darjeeling, Dooars, Cachar, and Sylhet.
Octavius is committed to preventing deforestation and also encouraging people living in the tea gardens to reduce differences with the wildlife so that other animals can have free movement and access to the water bodies. It also cares for its workers and provides them with facilities related to medical, educational, and general facilities. Octavius is also leveraging sustainable packaging in every product category. Due to waste-free packaging, it is preventing deforestation on a large scale. All of its packaging is compostable, which is completely environment - friendly.
Octavius has brought a new range of tea hampers to gift to your loved ones this festive season. Let us dive deeper into the various types of tea hampers offered by Octavius.
Grand Indulgence Hamper- Your Bespoke Bundle
This hamper consists of one tea blend, which you can choose from the list of teas such as Mint Digest, Kashmiri Kahwa, Rose Glow, Tulsi Delight, and Indian Masala Chai. Also, you can choose your teaware along with the tea, such as a double wall cup or ceramic cup. It also lets you choose organic candles, tea infusers, and wooden coasters. Last but not least, you also get a greeting card to add a beautiful message along with an add-on prop.
Desi Chai Hamper( Cardamom Instant Tea and Kullad Set)
This hamper consists of Indian Masala Chai along with two earthen kullads packed in festive special tea gift boxes. It also has cardamom chai premix, which is a combination of natural tea and cardamom, known as the queen of spices. The kullads are made by local artisans and are fully Desi in nature. Add a touch of nature and tradition to your daily tea ritual with this tea hamper.
Collectors Tea Box- Leaf Tea Infusion Kit
This hamper has a rich and healing blend of green tea and rose petals, along with tulsi, which makes it great for health. This blend consists of antioxidants that prevent cell damage. It also has jasmine mixed with green tea, which helps boost immunity, serves as an antioxidant, and also helps relax the mind and body. Lastly, it comes with a pyramid-shaped clear borosilicate glass kettle to enhance your tea-drinking experience.
Ambrosial Tea Hamper
This Ambrosial tea hamper consists of a rose glow, Kashmiri kahwa, and organic lavender bubbles. Dive into the richness of the soothing tea and share the aura with your loved ones with the organic bubble candle. This healthy tea has nutrient-rich ingredients like turmeric, tulsi, exotic spices, and flowers, which have been known for wellness since ancient times.
Octavius Tea's Special Diwali Offers
Octavius always brings up some of the special Diwali offers every year. This time, you can avail of up to 10-20% discount on all the major teas and tea hampers here. You can also get up to 50% off if you are buying it for the first time online. You don't have to pay any delivery charges if your order amounts to more than Rs 299.
You can avail yourself of these amazing offers and benefits from Octavius this Diwali. Also, the shipment of teas is very smooth here, and your package will be shipped within 24 hours from the time you order. You will get your order delivered within 2 to 5 days once it is dispatched. These are some of the salient features of buying the best teas from Octavius this holiday season.
Conclusion
Diwali is coming very close, and the search for the best Indian tea collection has already begun. If you are thinking about gifting the best tea hamper this Diwali to someone who loves tea, Octavius has the finest tea gift hampers in store for you. All you have to do is visit the website, select the perfect tea hamper, and send it to your loved ones this festive season.
Shop now to show your love.
---
← Older Post Newer Post →