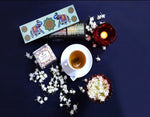 Gifts and sweets galore means Diwali is round the corner. It's quite easy to pick gifts during this festive occasion for friends and family as we know what they like and don't but when it comes to one's clients or employees, it can become a tough decision. Do you know what is a fail proof gift in a professional setting? Well, it's tea and anything related to it! Fine teas are fancy and also make thoughtful gifts.
Here is our corporate collection of fine teas which are a confluence of health, freshness and style.
Assortment of Fine Teas in Cutwork Wooden Box
Thoughtfully handpicked, these assortments of black and green teas come packed in an extravagant cutwork caddy. There are three variants of green tea and three variants of black teas. Definitely a premium gifting option for high profile clients.
Assortment of Fine Teas in Handcrafted Elephant Pattern Wooden Box
Nothing symbolizes Indian luxury more than an elephant! Its best for international clients who would love this Desi gift box with a carefully curated assortment of black and green teas. There are 3 options in this gifting range – 90 tea bags, 60 tea bags and Tulsi Sweet Rose Chamomile Herbal tea.
Mini Tea Box- Assorted Floral Green Infusions + Infuser
Appropriate for bulk orders, this Mini Tea Box consists of loose-leaf black tea with 3 different aromatic flavours and 2 floral green tea infusions. A definite hit for employees and their family. The Infuser is a bonus!
Pyramid Shape Borosilicate Glass Teapot in Sesham Wood Box
Ever seen a beauty encased in another? This beautiful and minimally styled borosilicate glass teapot comes safely enclosed in an elegantly designed handcrafted Sesham wood box. A true piece of art! This would make an exquisite gift for you premium customers. Available as 500 ml and 720 ml.
Assortment of Fine Teas in Sesham Wood Box
An assortment of fresh black and green tea bags and pre mixes that come in a beautifully handcrafted Sesham wood box. There is also another option of Indian tea collection of premium black whole leaf teas.
Tea Time Treasure-Wellness Infusions (4 Assorted Caffeine Free Teas)
If you love glass vials then this is the gift you should go for. Plus, the infusions in it are delicious and healthy. It comes in 4 assortments of caffeine-free teas. This is sure to impress any employee or client equally. A true tea time treasure for professional gifting.
Tea Essentials-Immuni-Teas
Exquisite flavours, delicious taste profiles and immune-boosting teas ideal for employee gifting. These come in beautifully packaged tin cans. The flavours are Tulsi green tea blend, cinnamon and start anise and other green tea blends.
Assortment of Exotic Indian Ground Spices
Aromatic and premium quality ground spices come beautifully packaged in a wooden caddy. Exotic in taste and exotic in look, these are ideal gifting for clients especially for those who adore the flavours of India.
Indian Spice Collection-6 Assorted Indian Whole Spices
A grandiose whole spice box with the most aromatic and flavour filled spices of India. This comes in a compartmentalized wooden caddy which has a premium look. Best gifting option for employees and clients who would prefer something different.
Darjeeling White Tea in Handcrafted Wooden Box
Darjeeling White teas are delicious and make for unique tea gifting. This will be loved by tea connoisseurs or those who love to try new flavours of tea. A unique gifting option for your office colleagues.
Gourmet Tea Collection-Blossom Bundles (2 Tins)
Gourmet gifting option consisting of soothing blends. The flavours are floral (dried rose and chamomile). These teas are filled with antioxidants and are a healthy range for gifts.
Indian Tea Collection - Classic Darjeeling Whole Leaf Black Tea
Indian teas have the best flavours, especially Darjeeling black teas. This is an ideal gift to showcase the flavours of India to your clients.
Assortment of Fine Teas in Ornate Floral Art Wooden Box
Assortment of premium black teas come in ornate floral art wooden caddy. The teas are delicious and the box can be used as a home décor – a dual gift!
Assortment of Fine Teas in Leaf Cutting Wooden Box
Beautifully designed wooden box with botanical engravings with an assortment of delicious teas are a thoughtful gifting option for prospective and existing clientele.
Assortment of Fine Teas Black & Green Teabags in Tile Motif Wooden Box
A perfect combination of taste health are these black and green tea collections which come in a tile motif wooden box which is handcrafted.
Now that you have a plenty of fine gifting option for your clients and employees, go ahead and select the ones that would be the right fit for your people. These gifts are handcrafted as well as thoughtful that your clients would definitely be impressed with your gifting style!
---
← Older Post Newer Post →