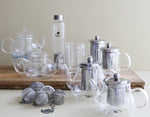 Wine enthusiasts are very particular about their wine glasses because it's the ware that makes the tasting a memorable experience. Similarly, Tea ware is just as important as the brewing process and the quality of tea.
Since time immemorial, tea ware and its design has constantly evolved to refine one's tea drinking experience. The Chinese traditionally pour tea into tea cups via what is known as Cha Hai. Did you know that if you pour tea directly into different tea cups, the taste of the first cup will vary from the last? Serving tea in Cha Hai ensures that equal portions of tea served tastes the same as well. That's how much difference a tea ware can make!
A Cha Hai which is loosely translated as a sharing pot is not just a range of tea ware that enhances tea tasting but also is a way of showcasing one's tea etiquette. The correct usage of Cha Hai shows good table manners. For example, when you pour tea from a Cha Hai into a tea cup, you must hold it close to the cup to avoid splashing; pouring it close to the cup also ensures that the aroma remains intact. Another important pointer is never to pour tea till the brim of the cup, so you don't intimidate your guest from picking up a hot beverage that may spill. The correct way to pour tea to the guest in your left is to use your left hand and likewise for the right, to avoid reaching out the entire arm across the table. That's some tip right!
Apart from the taste aspects, tea ware collection is also essential for the aesthetics part of it. Miniature tea sets, collection of some best teapots in the market, porcelain cups – these are all irresistible buys for any tea enthusiast. After all what better way to show off your tea ware than at your home gatherings! Slicing through some strawberry cake while displaying your favorite set of tea cups with old country roses is the best way to celebrate... isn't it?
---
← Older Post Newer Post →