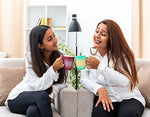 Mother's Day is a special occasion to honour the woman who gave birth to us, nurtured us, and played a crucial role in shaping us into the person we are today. It's a day to appreciate her selfless love and devotion, and what better way to celebrate it than with a cup of tea? Afterall, she has been brewing cups of tea for everyone, every day in the household with love and care. Also, Indian mothers love tea for its cultural significance, health benefits and taste. It is an integral part of their daily lives and an important way of connecting with their families and community. It's no wonder that tea has become a symbol of comfort and relaxation, making it the perfect choice to celebrate Mother's Day.
You may wonder how you can actually celebrate Mother's day with a cup of tea when no one makes tea better than mom! Well, we have put together some thoughtful yet unique ideas for you so this day can be celebrated in the special way that it should be!
Tea Gift Basket: Create a personalized tea gift set for your mom by selecting her favourite tea blends, a tea infuser, and a beautiful teacup and saucer. It is cure, creative and easy to put together. You can also add a personalized note to the gift set to show your love and appreciation.

Breakfast in Bed with Tea: Surprise your mom with a delicious breakfast in bed, including a hot cup of tea. You can prepare her favourite breakfast dishes, such as aloo paratha, poha or dosa serve them with a cup of freshly brewed tea.

Tea Party: Host a tea party for your mom, grandmom and their friends or family members. You can set up a beautiful tea table with a variety of tea blends, tea sandwiches and sweet treats. You can also decorate the table with flowers and other special touches to make it extra special.

Spa Day with Tea: Treat your mom to a spa day with a cup of tea. You can book a spa session for her and serve her favourite tea blend while she relaxes and rejuvenates.

Tea Tasting Experience: Take your mom to a tea tasting experience at a cafe. This can be a fun and educational experience for both of you, as you learn about different tea blends.

Evening Tea: Take your mom to a fancy evening tea at a high-end cafe or restaurant. This is a great opportunity to dress up and enjoy a luxurious experience with a delicious selection of tea blends, sandwiches, and sweets. That would be an evening your mom would never forget!
The best thing about tea gifts, other than the tea being de-li-cious, are the other cute and thoughtful things that go with it.
As you plan for the most incredible Mother's day experiences, don't forget to consider these things as well:
Consider gifting or offering different flavours of tea with a refreshing twist

Classic teas are always a winner so don't skip them

Balance sweet teas with other flavour varieties to appeal to all the guests
Finally, amp up the celebration by planning your attire. If it is a party, plan for summer colours or just ask the guests to come in their best outfits. If you are taking your mom out for the evening, then try twinning or even gifting her an outfit she would love.
Thus, celebrating Mother's Day with a cup of tea is not only a thoughtful way to honour your mother or grandmother, but it's also a healthy and enjoyable way to spend time together. Whether you choose to throw a tea party or take your loved one for tea or even brew a cup at home, it will turn out to be a meaningful and memorable experience that will be cherished for years to come. So, this Mother's Day, why not treat your mom to a cup of tea and show her how much you appreciate her?
---
← Older Post Newer Post →