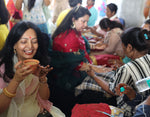 A wedding ceremony is a special event that deserves to be memorable and unique. If the bride or groom are tea enthusiasts then there is no better way than to add special touches that remind one of tea to create an unforgettable experience for them and for the guests. One way to add some flair to the wedding is to incorporate unique tea ideas that are not only delicious but also visually appealing. Here are six tea ideas that can make your wedding ceremony extra special.
Create signature tea-infused cocktails for your guests to enjoy. Mix your favourite tea with your favourite spirits or soda and add some fruits to create a refreshing and tasty cocktail or a mocktail. For example, you can infuse green tea with vodka, fresh mint, and lime juice to create a delicious and refreshing cocktail. Here are some more ideas so you can be inspired – Peach tea combined with soda or spirit), Cognac with green tea flavoured with fresh mint and ginger, Black tea combined with coconut milk, condensed milk and any soda or spirit of choice, Sangria flavoured with green tea and pomegranate juice.
Did you know that tea pairings can elevate certain types of food to the next level? If you have watched cooking contests, you could have figured that out by now! You could offer your guests different tea pairings with their food and give them a real MasterChef experience. Pairing tea with food is an art that can elevate the taste of both the tea and the food. For example, a light and delicate white tea can pair well with vegetable salads, while green teas go well with Barbeque, Pizza and Asian cuisine like steamed veggies, vegetable sushi, salad, noodles and rice. Smoky green tea can do wonders with pizza but does not sit well with desserts. Fruity green tea enriches the taste of sandwiches and fruit salad. Have these caught your fancy? Well, here are some more ideas – Black tea with roast, Mexican dishes and other strong flavours, Floral teas and tisanes with dessert and sweets and finally the great Indian chai pairs well with sandwiches, cookies, cake, pastries, Indian parathas and goes best with fried snacks like fries , samosas, etc .These ideas are sure to be a hit at a wedding or any grand party.
A tea station where guests can sample different types of tea! Isn't that one of the coolest ideas you've ever heard of? It will be a tea lover's paradise, for sure. Offer a variety of tea flavours and types, including herbal, green, black, and white teas. You can also adorn the tea station with some tea accessories, such as teapots, cups, and saucers, to make the experience even more special. This would suit both a modern wedding as well as a traditional one. You could make it more desi (Earthem terracotta, brass) if you are going for the latter. The more desi concept is normally named as Chai Tapri. This concept has specially become a hit in destination weddings because such Chai Tapris or Tea Stations keep the guests together while they enjoy the different teas and chit- chat with their family, friends and near and dear ones between the rituals and ceremonies.
Incorporate a tea ceremony into your wedding. A tea ceremony is a traditional Chinese wedding custom where the bride and groom serve tea to their parents as a way to show respect and gratitude. This can add a meaningful touch to your wedding and make it more culturally diverse. This is the perfect way to celebrate a tea loving couple!
Set the bar high with a tea bar where guests can create their own tea blends! Provide different types of tea leaves, herbs, and spices, and let guests mix and match to create their own unique tea blends. You can also add some tea education, teaching guests about different types of tea and how to brew them properly. Brewing tea is a mindful and meditative experience which can make any party unforgettable and unique. Your guests will remind you of it even when years pass by.
Give your guests tea favours or return gifts to take home. These can include personalized tea bags, tea accessories, loose leaf tea or even tea-infused soaps or candles. You can also add a note explaining why you chose the specific tea and how it relates to your wedding. E.g.: Floral tea with a write up on it being a favourite of the bride and groom, a specific flavour that the couple had when they first met etc. There is no limit for your creativity here. These unique tea ideas can add some flavour and flair to your wedding ceremony. From tea-infused cocktails to personalized tea favours, there are many ways to incorporate tea into your wedding. With a little creativity, you can create a memorable experience for your guests that they will cherish for years to come. Also, your guests will never forget that you are a tea enthusiast!
---
← Older Post Newer Post →