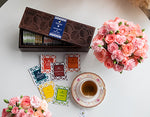 Tea has been a symbol of celebration and relaxation for centuries. From the humble tea leaf to the elaborate tea ceremonies, tea has played an integral role in many cultures. With its almost magical properties, tea is the perfect way to celebrate a wedding, and what better way to commemorate the occasion than with unique tea gifts? Here are some ideas for unique tea gifts that will make a wedding celebration truly special:
1. Premium Tea Blends
Why settle for plain old tea bags when you can get amazing tea blends in the loose leaf form? This is a unique gift that will not only be appreciated but also remembered long after the wedding day. You can choose from a variety of teas, including black, green, white, and herbal teas, and find your favourite blend of tea with spices, fruits and flowers. You can even add personalized labels to the tea tins or pouches to make them extra special. What a unique yet memorable way to celebrate the most important day in one's life!
2. Tea Infusers with a loose leaf tea
Tea infusers are a fun and unique way to enjoy loose leaf tea. There are many different types of infusers, from cute ball or basket - shaped ones to elegant brass infusers. You can choose one that matches the theme of your wedding or opt for a more personalized one with the couple's names or wedding date engraved on it. This gift with a loose tea can certainly get the womenfolk excited. Now who doesn't love cute kitchen accessories!
3. Tea Sets
A beautiful tea set is a timeless and classic gift that will be cherished for years to come. You can choose from a variety of designs, from traditional porcelain sets to modern glass sets. You can also opt for a set that includes a teapot, cups, saucers, and a matching tray. This gift would be ideal for close-knit group celebrations like sangeet or wedding reception.
4. Tea Books
For the tea lover who wants to learn more about their favourite beverage, a tea book is the perfect gift. There are many books available that cover everything from the history of tea to the different types of tea and how to brew the perfect cup. You can also choose a book that includes recipes for tea-infused cocktails and other beverages. This gift would be ideal for avid readers and for those who are not fond of reading, it would make a good addition to their cocktail table book collection.
5. Other Tea Accessories
There are many tea accessories available that can enhance the tea-drinking experience. From elegant tea strainers to beautiful tea trays and coasters, there are many options to choose from. You can also opt for a tea timer or thermometer to ensure that your tea is brewed to perfection every time.
6. Assorted Teas
Assorted Teas are a great way for guests to try a variety of teas without committing to buying a large quantity. You can put together tea sampler gift boxes that include a variety of tea bags or loose tea blends. This is a perfect way to share your love of tea with your wedding guests and let them take home a taste of your wedding day.
7. Teabags in Handcrafted wooden boxes
People have a natural affinity for boxes and containers! What's better than teabags, teabags in handcrafted boxes! The functional and aesthetically pleasing boxes (made from wood like Seesham or Teak) can be used as home décor or as storage, long after the teas are enjoyed.
8. Tea Kit
A tea kit consists of expertly put together brews and tea accessories that go with it. Choosing nutrient rich teas and packing them in aesthetic tins and containers makes for a festive tea kit that can be gifted at wedding celebrations to make the event even more grand.
9. Wellness Tea Basket
Festivity and wellness go hand in hand. There is no better way to express love and appreciation than through wellness gifts. A carefully curated gift basket with delightful wellness teas. Our recommended wellness teas are Tulsi, Fennel, Elaichi, Clove, Green teas etc.
10. Luxury Tea Samplers
Gifting luxury teas is a thoughtful gesture that can express appreciation, gratitude, or care. High-quality teas like Darjeeling, Earl Grey, or matcha can offer a sensory experience and provide health benefits. Adding tea accessories, such as a teapot or a mug can enhance the gifting experience and make it more personal.
Unique tea gifts are the perfect way to celebrate a wedding. They are thoughtful, memorable, and practical gifts that will be appreciated by tea lovers everywhere. Whether you choose customized tea blends, tea infusers, tea sets, tea books, or tea accessories, you can be sure that your gift will be cherished for years to come. So why not make tea a part of your wedding celebration and give your guests a gift that they will truly love!
---
← Older Post Newer Post →