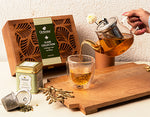 You might be brainstorming unique Mother's Day gift ideas. It might get tricky to finalize one thing; after all, she is the one person who has made an impact in your life.
How about surprising her with a basket filled with delicious and nutritious herbal teas as a Mother's Day gift?
Below are the best herbal teas from Octavius, gift them to your mother, grandmother, or any mother figure in your life. A little tip: set the table with her favorite breakfast along with a cup of brewed herbal tea and pretty flowers. We are sure she will get teary-eyed.
Calming Mint Green Tea
This herbal blend of green tea with natural dried mint leaves is the perfect rejuvenating and energizing brew with a myriad of health benefits.
Mint green tea from Octavius is calorie-free and when steeped creates a refreshing and invigorating drink that is perfect for any time of day. It can be consumed hot or iced. Given all of these potential benefits, it's no wonder that green tea has become so popular in recent years. Add it to your Mother's Day gift basket as well!
Sleep-well Chamomile Green Tea
This calming blend of tulsi, rose and Chamomile green tea is a cup filled with fresh aroma and anti-oxidants. It's a sweet infusion with fragrant floral notes that is perfect for relaxation.
Isn't it the perfect herbal tea to relax after a long day or to wind down before bedtime? Prepare a hot cup of Chamomile tea at night and let your mother sip the sweet and fragrant notes. This herbal tea has abundant anti-oxidants and lowers the amount of the stress hormone - cortisol - both are important factors in maintaining good health. Also, it is best suited for weight care and enhancing immunity. In addition, it may help improve skin and hair health - another bonus!
Cleansing Rose Glow Herbal Tea
You cannot miss adding this sweet herbal tea to your Mother's Day gift basket made with naturally dried rose petals. It's perfect for enjoying on a warm day or anytime you need a pick-me-up.
Rose herbal tea has floral undertones and becomes sweeter with every sip. It is also extremely low in caffeine and eliminates toxins, making it perfect for those who are looking for a cleansing drink. We recommend you prepare a hot cup of this rose herbal tea for your mom in the afternoon. Once your tea is ready, make her sit back and relax while sipping it slowly. Let the sun's rays fill the room with warmth and happiness. Enjoy this moment of peace and tranquility!
Revitalising Spiced Turmeric Tea
A zesty herbal tea with warm spice undertones that is soothing, reviving, and revitalizing with no caffeine.
Turmeric has long been used in traditional Indian medicine for its anti-inflammatory and immune-boosting properties, while other spices such as cardamom, cloves, black pepper, and ashwagandha are also known for their health benefits. Let your mom enjoy this herbal tea to relieve stress with every sip filled with warm spices and a bit citrusy.
Happiness-filled Hibiscus Green Tea
A herbal tea that combines floral, spicy, and grassy flavors with a blend of hibiscus, clove, and lemongrass. It's a delightful experience for tea lovers.
When this unique mixture of mild green tea, fragrant hibiscus flowers, a dash of clove, and lemongrass is brewed, it turns into a wonderful golden beverage that is energizing and light. This refreshing herbal tea is well known for being a stress reliever and calming the tired body and mind. This hibiscus tea is like a cup filled with happiness. You simply cannot miss this one as a Mother's Day gift!
Relaxing Moringa Green Tea
Moringa herbal tea is no less than any superfood with the goodness of the three greens – moringa, tulsi, and Mint.
It is a refined savory tea that offers a multitude of health benefits such as improved digestion, increased energy levels, reduced stress, and enhanced immunity. It also controls blood sugar and cholesterol. Offer a cup of this refreshing herbal tea to your supermom. An ideal and powerful Mother's Day gift.
Whether your mom is an occasional tea sipper or a full-on tea lover, express gratitude through these healthy herbal teas. Remind her what she means to you by adding these nutritious teas to her wellness routine.
All wonderful moms in your life deserve this gift of relaxation, so give them a basket of herbal teas from Octavius as a Mother's Day gift that will unwind them after a tiring day.
Celebrate Mother's Day with Octavius!
---
← Older Post Newer Post →