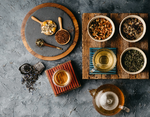 Are you struggling to find a natural treatment for PCOS / PCOD? There are definitely medications for the problem, but you must be wondering, "Is there a better and safer alternative" We have an answer to that. The herbal tea at Octavius offers you an array of health benefits ranging from improving hormonal balance to reducing insulin resistance. For those who don't know, PCOS (polycystic ovary syndrome) and PCOD ( Polycystic ovary disease ) are a hormonal disorder that has several health implications. Some of the major side effects are as follows:
Irregular periods
Weight gain
Acne
Hirsuitism (facial hair)
Pigmentation around the neck and under the armpits
Low fertility
The good news is that there are several natural herbal teas available to support and manage PCOS/ PCOD symptoms. However, the important question is, which tea is right for you?
Let us discuss the best teas to have to treat PCOS/PCOD symptoms.
HERBAL TEAS TO HELP TREAT PCOS/PCOD SYMPTOMS
Octavius herbal teas have a healing touch as well as the ability to energise you. Our treasure trove of wellness can help ease the symptoms of PCOS and PCOD. Scroll down to know more!
Green tea
Green tea contains active ingredients that help manage hair loss, reduce sebum production and cure inflammation. It contains vitamins K, A, C, and D, which improve fertility, eliminate toxins, and regulate blood sugar levels.
Our herbal tea range comes in a plenty flavours such as Lemon Honey Green Tea, Tulsi & Cinnamon Anise Green Tea, and Mint Green Tea. So, there's something for everyone and you can also mix it with honey and additional ingredients.
Chamomile tea
Is it possible for a simple cup of hot tea to provide the ultimate relaxation for your tired body? Yes, it certainly can! With its immense therapeutic properties, chamomile tea is probably the most well-known floral tea. It provides a calming effect during PMS mood swings.
To unwind, simply drink a cup of this tea in the morning and evening. The delectable flavour instantly alleviates the anxiety caused by PCOS/PCOD. In this tea from Octavius, you can enjoy the natural floral aroma of chamomile flowers.
Mint tea
Have you been waiting for ages for your period to arrive, but every remedy fails? Irregular periods, cramps, and bloating are the most common symptoms of PCOS/PCOD. We recommend Octavius Mint green tea, a perfect blend of herbal tea leaves with dried mint leaves. Sip it every morning or evening for an energising and rejuvenating feeling. Mint tea can also help with heartburn and bloating, reduce stress and help you ease stress. PCOS/PCOD will hinder your sleep, and result in acne and hair loss. This refreshing cup of mint tea will help you sleep better, and improve your skin and hair quality. Enjoy this cooling herbal flavour of mint while it cures your gut!
Lemon tea
Lemon green tea has an array of skin benefits. It is known as an antioxidant tea that is rich in vitamins, amino acids, and minerals. This extreme amalgamation of benefits helps boost the immune system and metabolism.
Lemon green tea is an antioxidant-rich tea that promotes gut health by balancing the female hormones. At Octavius, our batch of healing herbal tea is made by natural techniques acquired through our age-old history of tea plantation.
Cinnamon tea
The sweet fragrance, with warm notes, combined with the bold flavours of cinnamon and star anise, will soothe your mood disorders. Brew our cinnamon tea for an antioxidant boost, a better metabolism, and relief from stomach issues such as nausea, vomiting, gas, and diarrhoea.
By brewing the cinnamon-anise green tea for only a few minutes, you can get an instant boost of energy. Not to mention it can regulate your menstrual cycle, help you lose weight, and improve fertility.
Ginger tea
Our Golden Sunrise Tulsi Ginger Herbal Tea is an exotic delicate blend made with natural tea extract and natural ginger extracts. This spicy flavour of ginger blended with fresh tea leaves is ideal for PCOS symptoms such as nausea, heartburn, weight loss, improved metabolism, and much more.
Octavius' ginger herbal tea with the refreshing flavour of anti-inflammatory adrak and tulsi relieves you from menstrual cramps and headaches. Well, doesn't it sound like just the tea for you?
These are the most effective herbal teas for PCOS/PCOD that can help restore your hormonal imbalance. Remember, all you have to do is make a shift in your lifestyle and eating habits and of course, take no stress.
Sip the rich legacy of our herbal tea every morning or evening. We want you to endure our pure and premium teas with health benefits to soothe your PCOS/PCOD symptoms. Every leaf of our rejuvenating tea is sourced from our tea plantations in Darjeeling, Assam and Nilgiris.
---
← Older Post Newer Post →