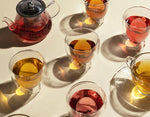 How Hotels are Elevating India's Tea Culture?
India is a land of tradition and innovation, and we cannot deny that the tea culture is the most mesmerising blend of both these aspects. From the bustling streets to the serene valleys, there is no place where tea is not served. You can experience the fresh aroma of tea leaves across the country, no matter where you go!
We are looking forward to reading more about it in this article.
The Role of Hotels in Elevating India's Tea Culture
Many hotels have become the flag bearers of unique tea tasting experiences by introducing new tea places and exclusive menus. For instance, Kettle, a tea lounge situated in Port Muziris, a tribute hotel by Marriott, nestled in the heart of Kochi transports customers to a world of rich Indian tea culture. The exquisite flavors and aromas of the finest tea blends, the hotel has committed to elevate India's tea culture. The immersive experience not only tantalizes the taste buds but also educates guests on the art of tea-making.
Another example is Mister Chai by Shangri-la's Eros Hotel in New Delhi that lists F&B offerings for its guests. Chef Neeraj Tyagi, Executive Assistant Manager, F&B, aimed to break away from the traditional lounge concept and create a restaurant that celebrates Masala Chai. The luxurious experience by Mister Chai serves delicacies in the hotel lobby. Visitors can enjoy delicious tea-time snacks along with aromatic tea such as 'butter chicken samosa,' 'tikka tacos,' 'Kolkata chips,' and more. And not deviating from the tea curation, Mister Chai serves unique brews such as 'kali mirch chai,' 'Italian almond,' 'Shannon estate,' and more.
The Atrium situated in the Imperial, New Delhi takes pride in bringing the European royal courts' coffee house culture to the capital, offering a unique and refined alternative to traditional afternoon tea. Their special offerings include 'Dia tea,' a blend of ayurvedic herbs with organic green tea and 'silver green,' a delicate tea made from pale green leaves with full flavor.
Indulging in the mesmerising and cultural experience of tea has never been more delightful than at these exceptional restaurants in India. At The Oberoi Gurgaon's threesixtyone°, guests can savour the perfect blend of their preferred teas with a delectable spread of savouries and desserts during their gourmet high tea. Meanwhile, The Taj Mahal Hotel's Emperor Lounge boasts an impressive selection of 26 tea varieties, including the unique Panch Dhatu Tea, Rooibos Apple, and Vintage Pu-Erhh.
The Radisson Blu Atria Bengaluru takes it up a notch by serving infusion-based cocktails with raspberry and strawberry, resulting in a cultural experience that is both delicious and enticing. With a 20% increase in revenue from special tea services over the past two years, these venues demonstrate that tea culture is undoubtedly flourishing in India. The Lounge & Terrace on the lobby level of Four Seasons, Bangalore is a mesmerising destination for those who appreciate cultural experiences. The rarefied experience of loungy, relaxed afternoon teas introduced here is truly unforgettable.
The Future of India's Tea Culture And Hotels
India's tea culture has a vast potential for growth and evolution, with a rich history that dates back centuries. The role of hotels in shaping the future of tea culture in India cannot be overstated. They serve as a platform for showcasing the diversity of Indian tea and its unique preparation methods. With numerous tea brands and varieties to choose from, hotels can offer guests an immersive experience of India's tea culture that goes beyond just serving tea.
Technology has also had a significant impact on the tea industry and hotels, with advancements in tea-making equipment and online booking platforms. The future of India's tea culture and hotels is bright, with new opportunities for innovation and growth. For example, the use of virtual reality technology can provide guests with a 360-degree experience of tea gardens, tea-making processes, and tea tastings, all from the comfort of their hotel room. As the tea industry and hotels continue to evolve, so will the opportunities for the growth and evolution of India's tea culture.
When it comes to tea pairings in Indian hotels, there are a plethora of options available. From the classic masala chai to the more unique and flavorful blends, hotels in India have perfected the art of tea pairing. For example, the Taj Mahal Palace in Mumbai serves their signature blend, Taj House Blend, which is a unique blend of Assam tea and Darjeeling tea, thereby offering an elegant flavour and a full bodied concoction.
And the Leela Palace in Delhi offers a range of tea options like 'green sencha' and 'traditional ayurveda', each paired with delectable bites like paneer panini and kathi rolls. These hotels know how to elevate the tea experience for their guests, making it a must-try for any tea enthusiast visiting India.
Conclusion
In conclusion, India's tea culture is a mesmerising blend of tradition and innovation. Hotels are playing a significant role in elevating the value of tea by incorporating high-quality tea into their offerings. With the potential for further growth and evolution, the future of India's tea culture and hotels is exciting and promising.
---
← Older Post Newer Post →