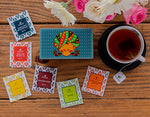 Father's Day is just around the corner, and it is the perfect opportunity to celebrate the dads, grandads, and all the father figures in your lives. We, at Octavius, have prepared a list of perfect gift ideas to simplify your Father's Day tea gifting experience.
Our exceptional collection of green tea, organic herbal teas, instant premixes, and immunity booster tea makes an array of perfect teas for your tea-loving dad. Whether he's a tea novice or an absolute tea enthusiast, we've got you covered!
In this blog post, we will explore our herbal teas and how they make an excellent Father's Day gift choice.
Assortment of Fine Tea
Nothing beats a classic! Our assortment of fine teas includes 60 black and green tea bags which is a great gift for any dad who enjoys a hot beverage. The grassy undertones and astringent taste offer tons of health benefits. It is loaded with antioxidants and boosts the immune system. The tea bags are packed in an ornate floral art wooden box that'll help refresh your father's morning with a hint of floral essence.
Gift your dad a cup of a refreshing and flavorful beverage that will take care of his wellbeing and health. The antioxidant-rich caffeine-free healthy infusions erves as a perfect gift for caffeine-free tea lovers. The tea gift box includes a soothing aroma of chamomile tea, tulsi sweet rose tea, blends of moringa and mint, and tulsi and ginger that serve as the perfect gift box for rejuvenating after a tiring day at work.
Elixir Collection
Wellness teas have become increasingly popular among the masses, especially those who love herbal blends. It helps boost metabolism and aid in weight loss, making it a great choice for your dad, who is trying to stay fit. The best thing about this tea gift box is that it includes two special variants (rose glow green tea and chamomile tea) with an infuser. If your dad is a fan of a sweet and floral taste rather than the classic taste of green tea, then you cannot go wrong with this as a Father's Day gift.
Grand Indulgence Tea Hamper
Another tea gift box from Octavius is the grand indulgence tea hamper for all the wellness-conscious dads. Imagine your dad starting his day with a rejuvenating cup of rose glow green tea while lighting an aromatic candle. This blend offers a natural source of rejuvenation, making it perfect for those who wish to avoid the jitters associated with coffee. The sweet taste of rose will represent your sweet emotions and love for him.
Collector's Tea Box - Double Wall Glass Set
A premium gift for your tea connoisseur dad is a double wall glass set! Give him the experience of luxury with our functional and sleek glasses. The high-quality finish allows one to enjoy their hot beverage at an ideal temperature without feeling the heat on their hands; isn't that a wonder? This gift box is a brilliant way to show him how much you care about him!
Does your dad love the fresh aroma of loose-leaf teas brewing first thing in the morning? We've got just the thing for him with this beautiful tea box containing exquisite garden fresh whole-leaf teas from the district of Darjeeling in the Himalayan foothills. This is your chance to enjoy white tea, black tea, and Autumn fresh premium teas with your dad!
Teabags in Desi print Wooden box
If your father loves the typical ghar jaisi chai then we have this desi gift box for your homely papa. Packed in a motif wooden box, this tea gift hamper includes English breakfast black tea, Indian masala chai, Darjeeling black tea, pure green tea and lemon green tea for a wholesome tea drinking experience.
Conclusion
Go beyond the ordinary, skip the traditional tie or wallet, and surprise your dad with the expansive world of the tea collection by Octavius. Our tea leaves are carefully selected and sourced from our own finest tea gardens, or from the best tea gardens in Assam and Darjeeling , ensuring a premium tea-drinking experience. Apart from the green tea mentioned above, explore our teaware, which includes teacups, infusers, glass kettle, tea warmer, and more. Provide your dad with everything he needs to enjoy his favorite tea.
You can order any of the herbal teas and teaware and have them shipped directly to you. Discover the world of premium teas at Octavius, where luxury meets flavor.
Gifting starts here!
---
← Older Post Newer Post →