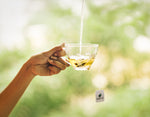 "A woman is like a tea bag; you never know how strong it is until it's in hot water "– Eleanor Roosevelt
Women weather any storm and create beauty from ashes. They are the real corner stone of the society. It is time to celebrate them for who they are!
One of the things that has come to the forefront in recent days is Women's health and guess what? Just a cup of tea can turn her day around!
A wide range of teas, right from ginger tea, masala tea, white tea, green tea to various herbal teas, is said to improve the quality of women's wellness.
Black Tea
Black tea contains the highest caffeine level among all the other types of teas. The polyphenols in them are packed with antioxidants. It is said that women who regularly drink black tea have lower incidence of inflammation and onset of chronic health conditions. So, brew some black tea for the mighty women in your life!
Green Tea
The benefits of drinking green tea are known around the globe. It is mainly attributed to catechins, the antioxidant compounds. Green tea leaves taken as a beverage improve skin and hair health, aid weight loss when combined with exercise. Go on, quickly dip some green tea bag for a healthy me-time.
White Tea
The least oxidised tea of all is the White tea. It is beneficial to women in many ways including weight loss, hair and skin health, acne treatment and anti-aging. White tea is what is missing in your life ladies!
Masala Tea
Masala chai, as we know it, comprises of super spices which have innumerable health benefits. It is the go-to tea for immunity boosting, improving digestion, reducing inflammation and enhancing energy levels. Plus, it's a lip-smacking beverage!
Herbal Tea
It may not be the regular leaf tea, but it carries loads of goodness. Extracted from different types of leaves and flowers, herbal teas aid women in stress relief, promote sleep and help in better digestion. Her day deserves a delicious cup of herbal tea.
Lemon Ginger Tea
Goodness of citrus combined with that of ginger makes this tea the best for detox, nausea relief and pain reduction. It's a warm hug in a cup miss!
Matcha Green Tea
Women watch out for this drink if you ever get bored of green tea. You can count on this for weight loss, detoxification and metabolism boosting. Whatcha need is some matcha tea!
Overall, different types of tea seem to be a quintessential element in preventing or relieving a wide range of ailments where Oestrogen is a key factor. So, support the women in your life by helping them add tea in their lifestyle or better, make a cup of tea for them everyday as a token of your appreciation.
---