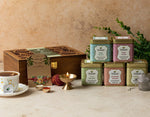 Get a jump on Rakhi Gifting this year with the best of gifts from Octavius. Siblings deserve the best and we offer some of the best gifting tea sets in the market.
Does the festive season stress you out? Do you find yourself buried in gift wrappers and bows yet confused on whether it's the right gift? Fret no more, we have put together a little gifting guide for you for this year's Raksha Bandhan.
Go all out with your sibling instincts of pampering your loved one with healthy tea sets. After all, this is what siblings are for right?
Let's dive right into the best tea gifts that you can select from to surprise your sibling and put a big smile on their face!
Fine Teas
Fine people deserve fine gifts. Our fine tea assortment is a mix of classic as well as famous teabags that delightfully satisfy every tastebud and craving. From classic breakfast black teas to healthy green teas, you can have them all. The set of black and green teas (90 teabags) come in handcrafted wooden caddies with beautiful elephant engraving. A flavourful collection to satisfy the palate and a beautiful collectible that can adorn the shelf – a true win-win!
Collector's Tea Boxes
Want to know what's more exciting than tea? Well, it's a Collector's Tea box. This thoughtful yet exquisite gift comes in festive boxes and an exclusive glass teaware. It is a chic pyramid shaped kettle for brewing loose teas. This tea box comes with exquisite green tea blends – Jasmine Rose Tea and Tulsi Green Tea.
Tea Hampers
Beautiful, charming and elegant, the Tea Hampers from Octavius are a treat to both the eyes and the tastebuds. The Ambrosial Tea Hamper consists of 4 wellness teas, an organic bubble candle and a tea infuser. The hamper is a premium quality wooden box with 4 tin boxes. The Grand Indulgence Tea Hamper also has handcrafted coasters that would make a lovely dining décor. This would be every tea connoisseur's true delight! This is the best gift for every sibling who deserve the extra love.
Connoisseur's Collection
Delight your tea-loving sibling with our grand Connoisseur's collection. It is thoughtful yet a no-wrap gift, simply because they come in beautiful packaging. You have Choicest Assam, India Teas and Darjeeling Premium to choose from. The festive box contains collectible tin boxes which are worth hoarding! So go ahead and splurge on them!
Indian Tea Collection
Handcrafted wooden boxes made of Sesham with some of the finest India teas that are truly delectable. You can choose between Classic Darjeeling Whole leaf black tea and Premium Black Whole Leaf Tea. It's garden fresh yet with an antique to it, thanks to the wonderful packaging it comes in. Delight your dear ones this Raksha Bandhan with this gift that so perfectly goes with the festive season.
Heritage of India
Raksha Bandhan is a festival so unique to India, what's more appropriate than celebrating it with the flavours of India? The Heritage of India collection features some of the classic India tea flavours with aromatic spices. From classic antioxidants, fine black teas, wellness green teas to premium black teas, we've got you covered. You can choose teas that your sibling would love, be it delectable black or energetic greens.
Tea time Treasure
Siblings either grow their bonding or bring the house down during tea time. Gifting Tea time treasures to your wonderful sibling will surely bring back memories of all the havoc you wreaked over the years. Our Tea time Treasures consist of caffeine-free teas, loose leaf green teas and floral infusions. The grand festive box comes with the cutest glass vials that are power packed with the exotic blends of chai.
Elixir Collection
True to its name, the Elixir Collection consists of healthy teas with wonderful aroma and taste as well as a plethora of health benefits. Our range of wellness teas come in colourful patterned tea boxes. You could also choose from Elixir gift boxes with tea infuser kit. Pick tea bags for a grab and go option for your loved ones. The Elixir collection can satisfy all kinds of tea lovers.
Gourmet Tea Collection
Timeless and elegant, the gourmet tea collection consists of a wide range of loose teas to pick from. Workout buddies, Truly Tulsi, Spice Trails, Grand Indian Teas, Immunitea are some of our bestsellers that you could take a look at!
With this vast range of gifting options, we are sure you can make some wise choices in showering love on your dear sibling this Raksha Bandan! Appreciate your loved ones while keeping the gifts healthy, this is our little advice to you.
---
← Older Post Newer Post →