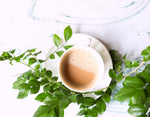 Delectable, aromatic and filled with the goodness of fine spices, chai lattes are to die for. Famously known as Masala Chai, this much beloved tea's recipe varies with every household. Some use full spices, while some grind them as all-spice powder, some add more water while some like it milky. Nevertheless, with the right mix of spice to sweetened milk, chai lattes can be brewed to perfection. If you ever set foot in the busy streets of India or get to travel by the Indian railways, it is certain that you would hear the call of the chai walah chanting "garam chai, garma garam chai" whilst the aroma of cardamom and cinnamon invites you over for a sip. The magic of the recipe lies in the quality of spices and the tea powder. Here is a simple recipe to brew your own chai latte at home:
Ingredients:
1 tea spoon of CTC black tea 
½ teaspoon of dry ground ginger or 1 inch of fresh crushed ginger
1 teaspoon of ground cinnamon or ¼ stick of cinnamon
2 pods of bruised cardamom
2-3 cloves
1/4th cup milk 
Sugar to taste
Method:
Boil 3/4th cup of water with 1/4th cup of milk in a small sauce pan
Add all the spices and tea powder once it comes to a boil
Stir the tea mixture and let it simmer for 3 minutes
Add sugar to taste
Strain in to a mug and enjoy
Most Indian households, more importantly the grandmothers, allow the tea mixture to boil over 3 times as they remove and return the sauce pan to the stove. While there is no science behind this practice, maybe it was meant as third time lucky?  Well we'll never know, I guess. Try this recipe and may be add your own twist to it, you will love it for sure!
---
← Older Post Newer Post →