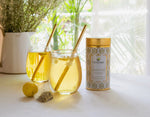 Green tea, the very name evokes freshness and calmness. Popular as the healthy beverage, green tea is a wonderful drink to beat the heat. While being healthy is something to focus on all year round, it is especially important to be on top of it during summers. Cos whose kidding, the summer heat can drive you mad! You'll need every option out there to keep you cool and hydrated and green tea sure tops that list.
Summer is known for 3 things it does to your body – increases your body temperature, dehydrates it and exhausts you. Green tea can effectively address all these three by keeping you hydrates, regulating your body temperature and also improving your energy levels.
Best tea for your morning commute
Morning commutes can be difficult, especially during summers where the sun shows up extra early in all its glory. The low caffeine green tea, preferably chilled, in your favourite travel mug can make all the difference as you kickstart your day at work. Green tea in the mornings can do wonders for your body while providing the much-needed energy boost.
Aid digestion with a cup of green tea
Summer can exhaust your body in different ways and one of which is interfere with your digestive system. A cup of green tea can effectively soothe an upset stomach, cleanse the tracts of toxins and improve the digestive flow. The best flavours of green tea for digestive health are fennel, peppermint and chamomile.
Beat the heat with some iced green tea
Well summer is not all that bad right? Not bad only if you have that tall glass of iced tea in your hands. Even though water is the no. 1 hydrating drink, not everyone looks forward to drinking litres of water every day. Pop in some iced tea crystals and ice cubes to make hydration extra fancy! Imagine relaxing near a pool or the beach, enjoying an iced green tea which is both healthy as well as hydrating – hope this is all the motivation you need to gear up for the days to come as the degrees are going up day by day.
Boost your immunity
Filled with flavonoids and antioxidants, green tea is a wonderful way to improve immunity in your body. It might be surprising to know that a big part of immunity has got to do with one's gut bacteria. By improving digestive health, you are in turn boosting your immune system. As summers are know to mess up digestive health, its wise to take care of it and thereby improve your body's immune system.
Recipe for a healthy green iced tea
3 tablespoons of your favourite flavour of green tea
A medium sized mason jar
Purified water
Add the green tea to warm water, give it a good stir and secure the lid. Keep the mason jar in the refrigerator. Strain the tea when you are ready to have it and enjoy with ice cubes. You can add
some exciting flavour bursts by layering ice cubes with slices of orange, lemon, mint, berries and anything that you thing would level up your iced tea. Beat the heat this summer with green tea!
---
← Older Post Newer Post →