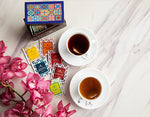 With the love season just around the corner, you might be pondering over Valentine's day gift ideas for your special one.
While there was a time when people said that diamonds are a girl's best friend, health is the most valuable gift for anyone in today's era.
This Valentine's Day, surprise your loved one with a token of health with the select collection of healthy Valentine's day gifts. Yes, we are talking about the bundle of antioxidants that comes in a variety of flavours— the perfect brew of romance and love, teas and coffee.
At Octavius, we present to you a burst of antioxidants for the healthy valentine.
Assortment of Fine Teas
Your Valentine deserves nothing but the best. The most valuable gift for a tea lover is fine tea expertly soured from fresh tea gardens, and delivered right to their heart.
Our tea gift box packed with 30 teabags of various blends will make your partner fall in love with you all over again. The premium gift option comes in a tile motif wooden box.
Wellness tea Hamper
Our wellness hamper is not only a healthy Valentine's day gift but also a prop for a romantic and relaxing date.
Light up the bubble candle and sip on the relaxing herbal tea packed with love in this exclusive tea gift hamper. Made from high-grade pure soy wax, the amorous candle offers a smoke-free flame that leaves no residue even after burning for hours. Well, looks like an ideal plan for your next date!
Teapot
While there is nothing wrong with gifting a bouquet of flowers and a box of chocolates to your date, a healthier alternative is sure to impress your loved one.
A healthy spin starts with a healthy food grade such as a teapot for brewing fresh and aromatic tea. Spend some quality time with your bae as you brew special tea for a warm time in the evening in this high-quality teapot made for brewing organic tea in the most subtle way.
Coffee
Every coffee connoisseur loves the aromatic smell of coffee beans. Make your special someone's morning even more special by restocking their coffee boxes or making them breakfast in bed.
Our coffee offers you the authentic taste of coffee in its purest form. The superior quality of coffee beans are sourced from the finest plantations in South India finely sorted to perfection.
Premium white tea
Take the tea gifting ritual up a notch, this Valentine's day. Premium Darjeeling white tea in a handcrafted wooden box serves as a unique Valentine's day gift for tea lovers.
Our exquisite garden fresh whole leaf White tea is expertly curated for tea connoisseurs from the district of Darjeeling in the Himalayan foothills. At Octavius, we ensure to bring you the best of everything, be it quality or experience.
Premium tea gift box
Make the tea drinking experience even more special for your partner by gifting them a variety of blends, packed in a beautiful, traditional motif box.
Our premium tea gift box contains 48 tea bags of aromatic blends such as Indian masala chai, black tea, green tea and herbal blends for better health and greater love.
Tea time munching pack
For the lovers of savoury snacks, there could be nothing better than flavoured almonds coated with delicious spices like Paprika to upgrade your evening tea time.
The tea gift box includes an herbal tea pack with flavoured almonds. This is your chance to serve your partner with delicious tea and snacks — sounds like an ideal date for a tea lover!
Complete combination gift pack
If you are wondering how to host a romantic evening for your sweetheart, we have the real deal for you with this premium tea gift set.
This Valentine's Day, invite bae over for some quality time and make the afternoon unforgettable with a special Valentine's day gift for her.
Our exotic tea gift set comprises a detox tea pack, almonds and mini honey jar. Add some sweetness to her life with your love and this afternoon tea hamper.
Serve refreshing iced tea
Put iced tea premix and add chilled water in a shaker and whisk it for a delightful date. All you need is iced tea premix mint leaves, sugar syrup and lots of love. Sift it into a small mug or a tall glass and serve it to your guest of honour.
You will find the best iced tea premix pack at Octavius. Our premium lemon iced tea sachets are sourced from the most revered tea-growing region. Loaded with antioxidants, natural caffeine, and freshness, this is the best Valentine's day gift for health enthusiasts.
Buy best Valentine's Day gift
The premium tea served by Octavius also possesses abundant health benefits such as weight loss, boosts immunity, soothes the nervous system and aids in digestion. The magical blends are great for healing, rejuvenating and energizing you.
Not only your health, the rejuvenating brews will also sooth your mood and better your relationship. So brew a cup of loving tea, light a candle and let your emotions flow as you spend quality time with your partner, this Valentine's day.
Browse the aromatic blends here.
---
← Older Post Newer Post →