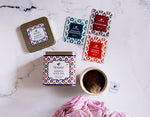 With Father's Day round the corner, we know you are searching high and low for the perfect gift for your dad. Fret no more for we got the memo. Here's a simple yet sweet gifting guide for a dad who is just the same!
1. Tea Samplers
It's a well-known fact that most dads are bonafide tea enthusiasts! They just love their tea and tea time. Let your father have a wonderful day with a curated Tea Sampler gift by which he can relish different flavours of tea and expand his tea-repertoire.
2. Healthy Treats
He might drive you nuts, but his love for nuts is unparalleled. Gifting your treat-loving dad some healthy mix of nuts, raising or even a trail mix is equal to gifting him heart health. Nuts are packed with antioxidants such as omega 3 fatty acids and mono-unsaturated fats. Do make sure that he doesn't have it all in one bite. That would be an overload of calories! If he loves some salty snacks then you could try organic chips with avocado oil – yummy yet healthy.
3. Fitness Tracker
Does your dad not have one of those fitness trackers yet? It's time to introduce him to this whole new world of health obsession. It's fun and makes sure the one who runs the family, goes for a run too! Some trackers monitor heart health, hydration, calories burnt etc, what's not to love about it.
4. Classic Tea Gifts
For people as classic as fathers, the most classic gift would be hand picked tea flavours such as English Breakfast, Masala Chai and Assam or Darjeeling should seal the deal. Nothing beats classic teas in a wooden box. It's luxurious as well as healthy!
5. Air Fryer
You might not be able to cook every meal for your dad but you can ensure he is keeping away from artery clogging oily food and having healthy yet flavourful food with an air fryer. Air fryers can make oil free, healthy yet nutritious snacks which can benefit your dad in the long run. He will thank you for this thoughtful gift!
6. Self-Care Kit
Self-care is not just for women; men need it too! Especially dads who always put themselves last or shy away from anything that spells relaxation or indulgence. You can either gift a self- care kit or get him a spa voucher. Well, he might say its just too much but would secretly give a big grin!
7. Healthy Beverages
With the summer scorching its way into our lives, healthy beverages would always be welcomed by anyone, let alone dads who love a good drink. From organic fruit juices to caffeine-free teas and herbal drinks, use your wisdom to stock your dad's refrigerator.
8. Organic Fruit Basket
It's mango season! There is also a plethora of exotic fruits available in any market this time of the season. This is a healthy gift that no one would refuse, especially not dads.
9. Healthy Sweet Treats
Show your dad that you care by putting together healthy homemade sweet treats such as macaroons, peanut buttercups, healthy brownies and more! Dare not say that your dad doesn't have a sweet tooth, it's just a myth which we refuse to believe.
10. Handmade Chocolates
Chocolates can be healthy too! Have you not heard of that trivia – something about cocoa and all. Without getting into the details, lets agree that a little chocolate hurt no one. Handmade low sugar chocolates make a wonderful Father's Day gift!
---
← Older Post Newer Post →