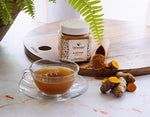 Tea is a sentimental affair in most homes. Not everyone is fortunate enough to make tea for the whole family. Only the experts get to do it. It is way to establish one's place in the family's kitchen! Get the proportion wrong, it could end up being a doodh vali chai, a serious misdemeanour of sorts for tea lovers. Brew it too strong and it comes off as way too kadak which may result in half-drunk cups of tea which no host likes to see. That said, there are a plethora of teas available for one's consumption. Did you know there are more than 3000 varieties of tea around the world. India being a top tea consuming nation also has a connoisseur's preference for tea. Here is a list of the top 10 most popular tea enjoyed in Indian homes across the country.
1. Masala Chai
Be it Loose leaf tea or CTC tea, every family has their special way of brewing Masala chai. This can be called as the household tea of India and there is no one perfect recipe for it. This is what makes it #1 in the most popular teas of India. An art by itself, masala tea is black tea that is brewed with exotic spices such as cloves, cardamom, ginger, cinnamon, peppercorns etc. The brewed concoction is then enjoyed with milk and sugar. In the western regions of India, pepper and cloves are generally not added to the brew. In some Northern states, a pinch of salt is added to the blend. Served as a piping hot drink, Masala chai is more than just a spiced tea, it is a valued treasure of Indian homes.
2. Assam Tea
Native to the state of Assam, this tea type has a malty flavour and a strong brew. It is a flavour that is not just popular in India, but also across the world. This gem of a premium tea available as loose leaf and CTC tea is called as the queen of Assam, thanks to the tropical climate and low altitude that prevails in the region. This is best served as an early morning drink. Did you know that Assam has an early sunrise than the rest of India? It is commonly referred to as Bagan time of Tea Garden Time. Assam is also the only place which cultivates tea in the plains. This makes the Assam Orthodox tea to have a strong brew with a dark amber colour which makes it well suited for tea bags.
3. Kashmiri Kahwa
A very popular spice infused Indian Green tea is called as Kashmiri Kahwa. It is also referred to as pink tea because of its rosy colour. Kashmiri Kahwa green tea is made of leaves and spices such as cinnamon, cardamom, ginger and saffron. It is served with a garnish of dry fruits and rose petals. All of these ingredients lend it a rich yet subtle sweet flavour and is a favourite drink of the Indian tea connoisseurs.
4. Green Tea
A refreshing, healthy drink that is loved by the Indian crowd. Almost every work desk of an IT office would have a stash of Green Tea bags as it is the perfect mid-day beverage. It instantly refreshes you and the grassy aroma relaxes your body and mind. A good quality green tea is not just flavourful but refreshing too! The good news for Green Tea lovers is that loose leaf green tea comes in an array of floral, fruit and herbal tea flavour. Green tea gained popularity in India due to its varied health benefits and abundance of anti-oxidants.
5. Nilgiris Tea
The ever-famous blue mountain tea or the Nilgiris tea originates from the Western Ghats. It is extremely flavourful and aromatic which makes it one of the most sought-after organic teas in the world. The mountain range has varying altitudes and is warm and humid throughout the year which makes the tea intensely strong and aromatic. The cold weather which concentrates during the time of winter harvest lends sweet notes to the flavour.
6. Darjeeling Tea
Originating from the green terrains of Darjeeling, this premium tea includes varieties such as black tea, green tea, white tea and oolong tea. It is thin-bodied with a distinct aroma with a myriad of health benefits, making it the darling of all teas. The subtle and mild taste makes it quite different from the strong flavoured organic teas which makes it an ideal drink that can be enjoyed more than once in a day. Owing to its subtility, the Darjeeling tea makes it to the top favourite flavours in India.
7. Chamomile Tea
Gaining quick fame is the Chamomile tea, thanks to the fast-paced nature of work in our country that is leading to a lot of stress. Chamomile is a rejuvenating blend made from chamomile flowers which calms and soothes one's nerves.
8. Ginger Chai
A popular breakfast accompaniment, the Ginger chai has a bold and unique flavour. Ginger, fondly referred to as Adrak, lends a bold flavour to the tea like none other. It aids digestion, improves mood and energizes you. This tea gives the perfect kick start for the day, as it is both strong and filling for the stomach.
9. Lemon Honey Tea
Lemon Honey tea is a household staple as well as a fast-selling beverage across tea stalls in India. A citrusy infusion which is low on caffeine, lemon and honey are made for each other. The natural extracts of lemon improve immunity and lift the mood, while honey helps with digestion and adds a delicious flavour. It's a blend that almost every Indian is fond of!
10. Turmeric Kadha
Growing in popularity across the globe is Turmeric tea, however, this is a household name in India. Turmeric Kadha has been brewed in Indian homes since time immemorial. It is an immunity booster and a body healer.
---
← Older Post Newer Post →