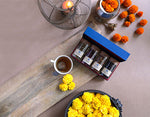 Teas have been used for calming and healing purposes since time immemorial. The age of commercialization has projected tea primarily as a beverage one takes to have a break during the day. However, Herbal infusions and some varieties of tea can reduce symptoms related to anxiety, stress and other mental concerns. It is also important to know that certain infusions that work well for some might not work for others.
Here are the 5 best teas that can alleviate symptoms related to anxiety and stress:
1. Chamomile Tea
This tea is brewed from a daisy like flower called chamomile. It is also a traditional folk remedy for sleeplessness. Chamomile tea is also a promising beverage in the field of research for its calming properties. Chamomile has flavonoid which is a nutrient present in plants. The relaxing and sedative like effects of chamomile is known to reduce stress and improve sleep. Children and people allergic to pollen should avoid this beverage.
2. Peppermint Tea
Walk by a peppermint garden and you would instantly feel a sense of calmness as you inhale the aroma. This classic garden plant has the mint like aroma that can calm the senses. It is also widely used to combat fatigue. The main attribute that contributes to the soothing tendency is the aroma of the tea.
3. Green Tea
Green Tea is known across the globe for weight loss and detoxing. Did you know that Green Tea also has certain calming effects? It has high levels of L-Theanine and amino acids that have the capability to effectively combat stress. Tea drinkers who regularly drink Green Tea may see the long terms effects on their levels of stress.
4. Rooibos Tea
This South African plant is known to alleviate stress and reduce tension. Rooibos tea contains nosthofagin and aspalathin which are two rare antioxidants that can alter cortisol production in turn altering the way body reacts to stress.
5. Lavender Tea
Lavender is famously known for its aroma and mood stabilizing properties. It is also beneficial in skincare routines. A bonus!
Potential Benefits of the Calming Teas:
1. Improvement in sleep duration
2. Improvement in conditions related to insomnia
3. Improvement in blood pressure levels
4. Relief from cramps
5. Improvement of skin health
Treasure Troves for the Anxious
Fret not, faint not – these gift hampers will be a great gift to yourself and to your friends who lead a very busy lifestyle. These calming teas can soothe and refresh you, plus they are so delicious too!
i. Mini Tea Box
This box contains 5 floral infusions- Chamomile, Hibiscus, Marigold, Jasmine and Rose. So, tempting right? The exquisite flavours are delicious as well as super effective in calming your senses. Flowers have the powers, right?
ii. Tea Time Treasures Wellness Fusions
These caffeine-free infusions of Tulsi, Chamomile, Rose, Moringa, Ginger etc offer a myriad of health benefits and help you sleep better.
iii. Gourmet Tea Collection
Chamomile Green tea, Mint and Rose tea are the fresh floral and herbal combinations teas that you require on any busy day!
Tea Ritual and Mindfulness
Now that you have plenty of options for calming teas to relax your mind and body, here is an easy and doable ritual that can help you to practise mindfulness on a regular basis.
When starting a tea ritual, pick a cup or mug that endears to you, something that possibly has meaning, like a gift from your partner or one that you picked up at your favourite tourist spot. Choose one of the best teas we have suggested for you and store it in an appealing container such as a glass canister or ceramic jar. The tea ritual is your sacred time so do things as you please. Choose a time during the day when you can possibly be by yourself and take a mindful break. It could be a quiet spot in your work station or the comfortable couch by the window at your home. It could be a day or night time ritual, nevertheless, be mindful to check in with your heart, mind and soul as you stay present. Brew the tea in a way you would enjoy, engaging your mind and body. Focus on the smell, touch and taste of the tea. You could also play your favourite songs as you begin to calm your body and mind. Did you know that melancholic songs can release a hormone called prolactin that can calm you, thus emotionally cleanse you?
Sip the tea consciously and enjoy every bit of it! This sort of self-care indulgence is what you truly need at least for a few minutes in a day and tea can be your best buddy here.
---
← Older Post Newer Post →