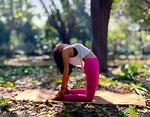 The Sattvic diet puts strong emphasis on detoxification, which is the process of clearing toxins from the mind and body. These toxins could lead to a severe disease if not treated in time. The best way to treat it is through regular yoga practice and adding herbal teas to your daily diet.
Herbal teas are available in a wide range of flavors. With Octavius' premium tea collection, you don't have to worry about the missing spice in your life. The herbs and spices brewed in the green tea leaves are of authentic quality.
This Yoga Day, you can incorporate the herbal requirements in your diet with the exotic and refreshing blends by Octavius. Let us take a look at the different types of tea for the much-needed detox:
Types of Tea for Detoxification and Rejuvenation
Each tea has its own benefits and is best suited for curing specific health issues. Below is the list of different types of tea and a brief explanation on how each of them can aid in the detoxification process:
The citrusy herbal tea is filled with vitamins thanks to the natural lemon and honey extracts. Both ingredients are full of antioxidants that contribute to the detoxification process. The zesty flavor will leave your body feeling clean and rejuvenated.
Blended with cinnamon and other herbs, this spicy and fragrant tea triples the quality of your healthy lifestyle. The antioxidant rich tea is a great choice for detoxifying the body and aiding relaxation with its aromatic blend of herbs.
A guilt-free sweet treat awaits you with the freshness of rose petals and premium green tea leaves. With floral, rose-like undertones, the calming tea is extremely low in caffeine and detoxifies the body, while calming the mind.
The wellness tea detoxifies the body in a royal manner and leaves you feeling exotic and refreshing. It is known for cleansing the body of harmful toxins or bacteria that lead to infections, cold, cough or flu.
A sweet and buttery sip of jasmine green tea is all you need to detoxify your body and mind. The refreshing herbal tea promises better sleep, good skin and a calm mind— definitely worth the brew!
It is time to de-stress and relax your mind! This immunity-boosting herbal tea is like a dose of fresh air and is loaded with antioxidants. The soothing aroma of the mint leaves combines with the delicately picked green tea leaves.
Restore your skin cells with the floral blend of lavender green tea, which is perfect for treating indigestion and fighting inflammation. The detoxifying and delicious herbal potion offers the best of both worlds! Isn't that a win-win situation?
A relaxing and rejuvenating blend of loose leaf green tea and yellow chamomile flowers results in soothing and therapeutic effects. The fragrant floral tranquil brew enhances the wellness profile with its detoxifying profile. It is highly recommended as a bedtime herbal tea.
Purifying Your Body with Tea for Yoga Day
By eating clean, practicing mindfulness, and getting enough rest, you'll be able to elevate your yoga game and achieve that zen-like state we all crave. Oh! We missed an important ritual, the herbal tea drinking routine that will elevate your yoga experience. Not only does tea help to hydrate your body during your practice, but it can also help to achieve a clean body and mind, which is essential for a successful yoga practice and detoxification of the mind and body.
Tea is packed with antioxidants and anti-inflammatory properties that can help reduce stress and improve digestion. So, whether you prefer a soothing cup of chamomile or a zesty green tea, incorporating tea into your yoga routine can be a game-changer. Some of the best teas to incorporate into your routine before hitting the yoga mat include lavender green tea, mint tea, and chamomile tea.
Conclusion
This Yoga Day, unleash the magic of herbal blends for a soothing and calm mind and a healthy body. Octavius offers a wide range of detoxifying and rejuvenating teas such as green tea, caffeine-free teas and therapeutic floral blends. The premium green tea leaves, delicate flowers and flavorful spices make up for a meditation experience that leads to inner peace and a toxin-free body. Cheers to herbal teas!
Happy Yoga Day!
---
← Older Post Newer Post →