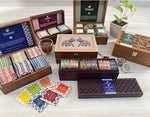 Tea gifting is becoming increasingly popular these days, and the reasons are quite evident. From health benefits to convenience and superb taste, there are plenty of reasons to practice this cultural norm. Whether you're looking for the perfect present for your best employee or want to send promotional gifts to your clients, giving tea gift hampers can be a great way to show your appreciation and build credibility.
Tips for Choosing Tea Hampers for Corporate Gifts
Tea is a powerhouse of health benefits. The favourite Indian beverage contains L-theanine, which is an amino acid that has been linked to making it easier to concentrate and think clearly.
When it comes to choosing the perfect gift for a tea lover, you should consider a few things in order to make sure that you pick the right gift. Let us take a look at these major considerations!
Occasion
There are many different types of tea gifts that can be tailored to the type of occasion, such as a work, anniversary, wedding, festival or any other special event. The tea gift should be apt to be gifted on the occasion.
Packaging
Teas can be presented in a variety of ways to create the perfect gift , such as in a gift basket, a tin, or a wooden box. It is important to select a tea hamper that is appropriate for the occasion and the type of tea. For companies hosting big occasions and giving corporate gifts can go for tea bags in a handcrafted wooden box, and for small family or social gatherings or compact packing, a wellness tea kit can be chosen.
Budget
The budget determines the size, quantity and inclusions of the tea gift. For instance, the assortment of fine tea comes in different sizes of 30, 60, 90 and 120 tea bags. Employers can also choose from mini boxes and large-size tea boxes in handcrafted wooden boxes.
Tea Gifts from Octavius
This premium assortment of tea is expertly curated from garden fresh black and green teas, packed as exotic tea bags. The black teas are perfect for tea and chai lovers, while the green teas are treasured for the abundant antioxidants present in them.
Our Indian Spice Collection has a wide range of Indian whole and ground spices which are known for their exotic flavors that are sure to please your taste buds. From clove to black pepper to ground turmeric or garam masala, these spices are perfect for those who enjoy the spice of life. These premium quality spices known to be used in Indian cooking are packed in a beautiful wooden box for a true Indian heritage experience.
The Gourmet Tea Collection is a must-have for any tea lover. Featuring either healthy low-caffeine green tea or exotic Kashmiri Kahwa or so many other varieties , this collection is sure to please all tea enthusiasts. From rose to chamomile, these teas are ideal for special occasions.
For those who prefer a more traditional style of tea, the Tea Essentials Collection is the perfect choice. This pack comes with two healthy and flavourful tea blends, a mini honey jar and an infuser for enriching your tea time experience.
The Indian Tea Collection is perfect for those who want to experience the flavors of India. From Darjeeling Black tea to Assam Black tea, this collection is sure to rejuvenate your senses. Enjoy the unique flavors of India in the comfort of your own home.
For those looking for something special, the Tea Time Treasure Collection is the perfect choice. Featuring a variety of unique teas, these blends are sure to calm the mind and fortify the spirit.
The Mini Tea Box is the ideal gift for any tea lover. Featuring a selection of our most popular teas, this box is sure to please. From floral green tea blends to black tea, these teas are the perfect way to enjoy a cup of tea on the go.
Tea Accessories as Corporate Gifts
Octavius has a range of tea accessories to make your gift complete. The wide variety includes tea pots in handcrafted cutwork sesham wooden box. The name of the company or logo or both can be engraved on the wooden box. It is also an elegant, permanent and traditional way of personalizing.
Conclusion
When it comes to selecting the perfect tea gift, it's important to choose a quality tea from a trusted source like Octavius. Octavius offers a wide selection of premium tea blends, so you can find a tea that perfectly fits the needs of the occasion.
Browse the perfect corporate gift here.
---
← Older Post Newer Post →