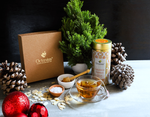 New year is around the corner and it is one of the biggest festivities celebrated around the globe. Everyone has their own tradition associated with New Year's. A popular one at workplaces is to give New Year hampers to the staff or colleagues. If you ever think about work there's one thing that co- workers look forward to everyday and sometimes every hour and that is going on a chai break! So, what's better than giving them a tea hamper that is delicious as well as healthy.
Octavius has a range of gorgeous Tea gift box that spell luxury but will also go easy on your pocket. These gift hampers will look beautiful on any office desk or home and is sure to make the receiver grin with glee.
You can choose from caffeine-free teas, tea for stress, green tea infusions, delicious black teas and more. So, make yourself a hot cup of tea and browse our range of gift hampers which you can order right away as gift for your employees on this special occasion.
Wellness Caffeine Free Teas- Festive Range
Tell your employees you care about their health by gifting them our 'Wellness Caffeine Free Teas'. The hamper contains premium tisanes that are caffeine free. The ingredients are best quality herbs, spices, flowers and fruits. This hamper contains 2 delicious flavours – Tulsi Rose and Tulsi Ginger, a truly delectable combination. Tisanes are central to the world of Ayurveda and is known for its health benefits proved for over a thousand years.
Mini Tea Box- Assorted Black Tea Infusions + Infuser
A little indulgence harmed no one! Let your co-workers indulge in some delicious black tea infusions even as they go the extra mile on submission days. Our unique Mini Tea box has three variants of aromatic whole leaf teas – Classic Darjeeling, Cinnamon Cardamom and Indian Masala. Your office folks will thank you for your generosity as they sip on these premium teas on a hustle and bustle kind of day. And what's more, it comes with an infuser!
Assortment of Fine Teas- 30 TB in Ornate Floral Art Wooden Box
We'd like to let you in on a secret – people buy things more for the boxes they come in than for the item itself. You just got lucky with our Ornate wooden boxes; they not only look gorgeous but also have some fine aromatic teas that will win over any tea lover!
Our ornate wooden boxes contain an assortment of 30 tea bags with 3 different green tea flavours and 3 different black tea flavours. Green teas for days they missed their workout and black tea for days they are looking for some delicious indulgence – a win-win, don't you think?
The wooden boxes come in 3 styles – Floral Art, Taj Print and Tile Motif and all of them look absolutely striking and will make wonderful home or office décor.
Mini Tea Box- Assorted Floral Green Infusions + Infuser
Delectable floral flavours that come in a handy box with 5 different flavour variants. Floral tisanes are the best teas to calm one on a busy day. Jasmine to give a fresh start to the day, Hibiscus to add some delicious flavour, Marigold for some sunny brightness, Rose for elevating one's mood and Chamomile to soothe your mind. There you go! Its everything a hard-working professional needs on a busy work week.
Tea Essentials-Traditional Detox (Kashmiri Kahwa Pyramid Green Tea Bags)
Every workplace has fitness enthusiasts and this hamper would be the right one for them. This curated blend of fresh Kashmiri Kahwa Green tea makes a wonderful detox drink. The premium quality pyramid tea bags come in a beautifully designed tin box. The hamper contains almond slivers and a small jar of honey. So dreamy right?
Every gift hamper would have reminded you of a particular employee or co-worker so go ahead and customize your gifts to make your peers give a big smile on New Year's Day!
---
← Older Post Newer Post →